Cloudways Hosting Review
Looking for Cloudways review reviews? I have dealt with many and many web hosting companies in the last 6 years and finally found one hosting company
Looking for Cloudways review reviews?
I have dealt with many and many web hosting companies in the last 6 years and finally found one hosting company where I can move all of my client's and my websites.
Do you want to know, Why do I like Cloudways hosting So much?
Cloudways Review
Let's find out What makes them Stand-Out from rest of the market in this Cloudways review.
Cloudways Performance
Cloudways Platform offers revolutionary SSD storage that supports blazing fast read-write requests. This cuts your website load time in half
They have their own unique system called 'ThunderStack'.
Which is, A combination of Nginx and Apache web servers with Varnish and Memcached caching system.
Option to Choose from MySQL or MariaDB – considered two of the best database servers presently – Optional Redis Cache and auto-enabled PHP-FPM that help ensure web pages load in a blitz.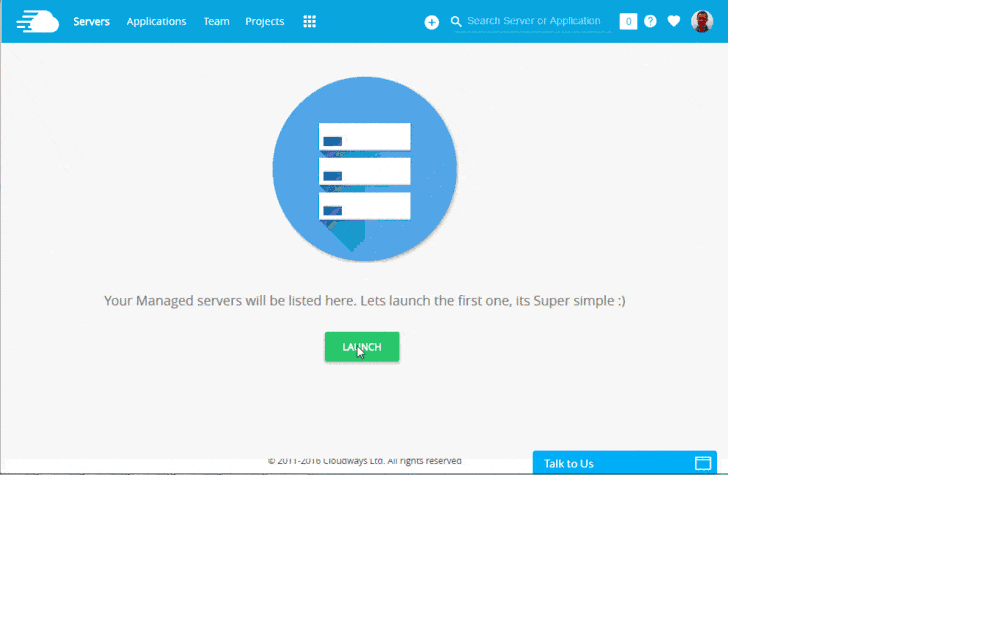 for WpgGlorify, which I currently hosting the CloudWays receive 100% up-time in last 30 days. With average load time under second.. good enough! which I am monitoring with Pingdom.
Cloudways also partnered with New Relic and you will get your server performance related notification straight in your Dashboard and through email.
Simple, Easy and Powerful UI
Speaking of the interface,
who says you can't have cloud hosting without spending all your time with your nose in SSH?
Installing any App with Cloudways is 'Damn' Easy.
Select your desired application(WordPress, Magento, etc.) and Choose hosting provider along with server Size and your preferred location.
Within 2 minutes your site will be ready. All without any credit card details.
Yes, you will get up to free 15 days (No Strings Attached)
Managing Cloud Hosting is not an easy task.
You normally have 2 options: Either Pay the ridiculously amount of money to Some Hosting Company to set up and manage the server for you.
Either Pay the ridiculously amount of money to Some Hosting Company to set up and manage the server for you.
OR
Do everything yourself. ( If you don't know how to do it, Again Spend the Ridiculously amount of time searching the Internet and watching outdated Videos on Youtube.)
Cloudways Makes Things Easy,
Their dashboard is super easy to manage your application and Server from one place. You can make any changes you want to your server from the dashboard.
Staging and Cloning
built-in staging mechanism. All test environments are hosted on our pre-configured sub-domains.
Cloudways Support
Everyone have different need depends on their Expertise level.
Chances are you might want to talk with your hosting provider at some stage even If you consider yourself Expert.
In the case of an unexpected error, some colossal failure? Servers can have hiccups too.
What do you do then?
Sit in front of your monitor and wait for everything to work again?
Of course not.
Everybody does the same thing: contact the customer support.
And Trust Me, You don't like to wait for hours to get a reply for your Ticket. Or waste time trying to connect with live chat.
Getting help from Cloudways is easy. You can contact the
There is always a button at bottom of the Dashboard and you will get reply Instantly without wasting a minute.
You can contact the support team via phone call, live chat or email.
Pricing Structure
Cloudways Charge you on hourly base,
What that means is:
Let's say for some short project, you only need hosting for a week, You don't have to pay for whole month or year. Just pay for hours you used the server.
Their price varies depends on your usage from $7 a month (with Digital Ocean) up to No limit.
Unlike, Other Traditional hosting companies there is no restriction how many websites you can host on a server.
After all,
It's your serve, Do whatever your want to do with it.
What's Wrong with Pricing Structure of Traditional Hosting
You should already know most of hosting companies charge you fix amount per month something like $3.95 for unlimited data and bandwidth, BUT
We all know
There is no such thing called Unlimited. And you will only get that price if you sign up for like 3 years.(WTF ? – I don't want to pay for 3 Years upfront)
If you trying to pay monthly, the price will go up sharply almost around $9-$10. Some hosting companies don't even offer monthly plans(Inmotion hosting). You have to pay extra to host more websites.
Also, Don't you want your website to grow in 3 years.
Free SSL With Let's Encrypt
You will get free SSL certificate, Which You can Install and manage with just one click. With a unique built-in tool.
Negative Side:
No DNS
Cloudways don't have any DNS management as part of there hosting, You have to use third party DNS services it could be your domain name provider such as GoDaddy Cloudflare.
No Email
Cloudways servers doesn't support emails and you have to purchase elastic email addon which cost $1 per month/1000 emails for basic email like forgetting passwords or order confirmation emails from WooCommerce.
Or you can Install any SMTP plugin and you don't have to purchase the addon in that case.
In summary
I was facing a lot of problems with most of the other hosts. Slower servers and website performance, no regular backups, waiting hours for support was just a some of the many issues I had.
Do you want to share your thoughts about CloudWays! You are welcome to Leave a comment.
You really get performance and secured hosting in budget. Cloudways server are optimized for best possible performance and if you have any problem there live support will be ready to help you in no time.