I believe we all agree on one thing, Managing your own servers is a pain and time-consuming task. and if you have more important things to do, You either want to switch to managed hosting or use server management services.
Serverpilot is quite a popular platform for quite some time but if you happen to look for serverpilot alternatives you are at the right place. Run Cloud, Moss, Forge, and Cloudrun are some of the best alternatives to serverpilot for server management.
Serverpilot Alternatives
This is my research on ServerPilot alternatives for deploying, and managing web applications on popular cloud servers; both small & large projects in 2019.
---
The RunCloud platform implements a modern and highly performant server stack, including Nginx, Apache2, MariaDB, Redis, Memcached, Beanstalkd, and Supervisord.
The perfect combination of speed and stability under high load.
RunCloud is Scalable & Feature Rich, allow you to relax and focus on your web application. Let the RunCloud platform automate the hard work for you.
Run Cloud Features:
Automate server configuration
Run Cloud manage your server using best practices ensuring your server can handle all kind of load and traffic spikes.
Why spend valuable time configuring your perfect server when it can be automated for you?
Painless PHP configuration
On run cloud platform, you can Automatically configure Nginx, apache2, and fpm with the click of a button.
It's easy to Configure each of your web applications to use a different version of PHP if needed, and painlessly manage your PHP settings from the dashboard.
Free SSL
You can install SSL certificate from let's Encrypt with literally just one click. Wildcard SSL also available with Let's Encrypt.
Built-in server monitoring
RunCloud comes complete with built-in server monitoring, giving you an instant view of your server health. This enables you to Respond quickly when your business needs it.
Script installer
RunCloud comes with script installer for you to deploy a famous script such as WordPress, Joomla, myBB, Concrete5 and many more, All of this with just a single click of a button.
Web server stack
You can set each of your Web Application to run on a different web server stack. One Web App is on NGINX + Apache2 Hybrid and another one is Native NGINX stack. Or just use Native NGINX stack for each of your Web Application.
Run Cloud Pricing
The great thing is about runCloud is you can start with a free plan though if you need to manage more than one server you need to upgrade to Pro plan which cost $15 per month.
Pros:
You have two option to choose the configuration for your server. Nginx + Apache, (Nginx as a Reverse Proxy) and Nginx+ PhP-fpm
Cons:
Runcloud consume more memory than serverpilot. Actually runcloud install more things than serverpilot
Moss.sh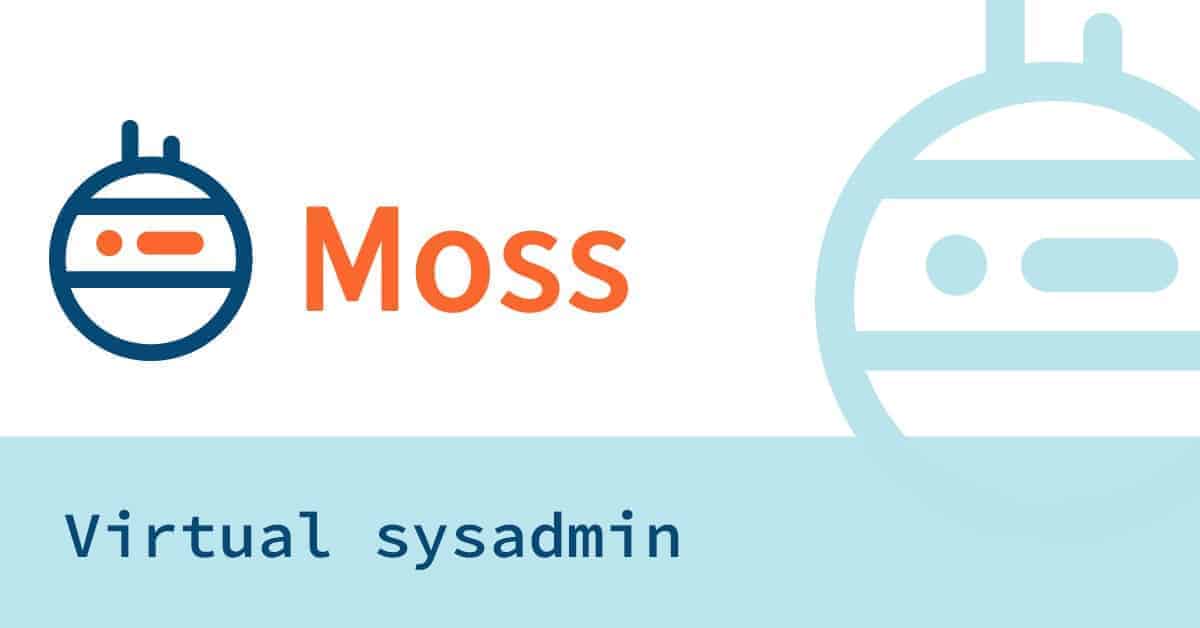 Moss is great to manage Ubuntu servers. You simply connect your server and moss will take care of your server.
You can deploy and configure web and database servers for your web applications – either PHP or static with Javascript + HTML + CSS. In addition, Moss natively support web development frameworks like Laravel, Symfony, and WordPress, but not limited to them.
Another great thing about moss is that they give you guarantee for zero downtime.
You Deploy your application as many times as you need without affecting your users! Moss can deploy a new version while the former one keeps being served until the deployment ends.
Take advantage of this feature to update dependencies, run database migrations, or perform any other tasks you may need before activating your new release.
Performance
Moss configure your websites to use optimizations like HTTP/2 and OCSP Stapling, among others such as varnish and Memcache for best possible speed for your website.
Security comes first when setting up server these days. Moss set up firewalls, security updates, user permissions and SSH/SFTP access to your servers following industry's best practices to make sure your server is hack free.
Moss gives you the better server management features for a more affordable price than other services. Intuitive server management and first-rate customer service, what's not to love?
Moss pricing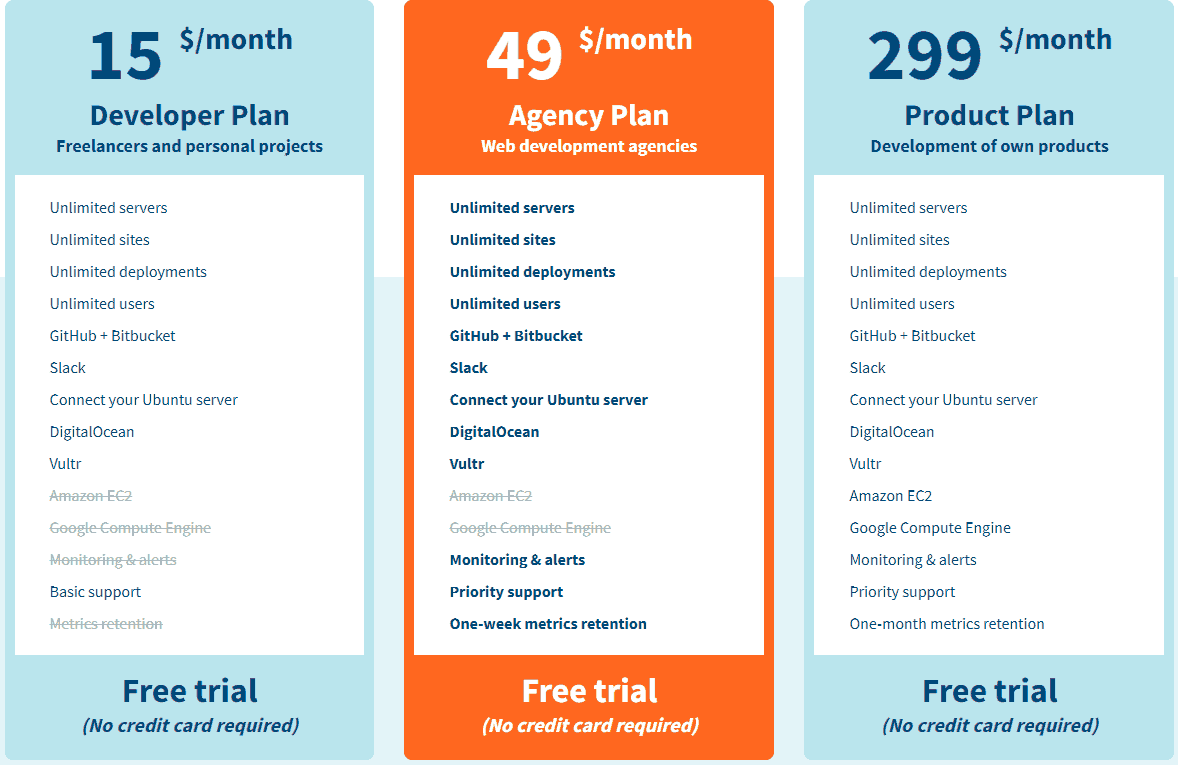 Moss offers three plans range from $15 to $299 for larger agencies. While the basic plan has everything you probably need as a freelancer or personal projects.
If you need monitoring alerts or need to metric retention for your server/s, unfortunately, you need to upgrade to higher plans unless you subscribe to third-party services.
Pros
One click or automatically git push app deployment. Link your GitHub, GitLab, and/or Bitbucket accounts.
Monitor server resources and notify server issues.
Members of your team can have access to only limited files
Support Laravel, Symfony and WordPress apps along with custom PHP apps and static websites(HTML, CSS, JS)
Cons
Only manage Ubuntu OS
No free plan and the basic plan starts from $15
Forge
Forge is managed by developers of the Laravel framework, Forge promises painless server management for PHP apps.
Forge will take care of provisioning and manage cloud servers so you can focus on building awesome PHP applications and websites.
You can run pretty much any php based app such as Laravel, Symfony, WordPress, Statamic, Craft and any other PHP application can easily be installed on a Forge server.
You can integrate any cloud or VPS hosting AWS, Digital Ocean, Linode, or even your own custom VPS from any damn provider.
Sub-Domain Management
With Forge's simple control panel, it's super easy to Easily configure unlimited domains, sub-domains, and even wild-card subdomains. Other features include but not limited to…
Manage Queue Workers
If you're using queues and workers in your application, you'll jump for joy. Forge configures Supervisor so your workers will run forever.
Cron Jobs Made Simple
Easily configure commands to run every minute, hour, day, month, or on your own custom schedule. Forge's scheduler works great with the powerful Laravel scheduler.
Load Balancing
Create and manage Nginx load balancing servers. Simple point-and-click interface to distribute traffic to your other application servers. You'll be amazed.
Horizontal Scaling
The Forge control panel provides a simple interface for configuring private networks. Easily grant your application servers access to your cache or database servers.
Up-To-Date Server Configuration
Take advantage of Ubuntu 18.04 LTS and our tailored server configurations, complete with Nginx, PHP 7, MySQL, Postgres, Redis, Memcached, and automated security updates.
Pros
The firewall comes configured out of the box to keep your servers secure.
Forge has feature called recipes, which are pre-written Bash scripts (shell scripts) that you can run at any point on any of your servers.
Share your server's management dashboard with your co-workers.
Cons
Basic plan only support 1 server. Other server management offer more than this.
Cloudron
Cloudron is Solid web app hosting platform featuring sandboxed applications, centralized user handling, and Automatic Updates on all plans (including Free).
Cloudron is a platform which could transform the way we self-host. After an easy installation process, it allows you to install a number of great apps – most of them open-source – by doing not much more than clicking an icon.
Cloudron has a built-in mail server that can send and receive email on behalf of users and applications. By default, most of its functionality is disabled and it only sends out emails on behalf of apps (for example, password reset and notification emails).
Cloudron Pricing
Cloudron pricing structure is pretty simple, and an Amazing thing is you can manage 2 websites completely free oh did I mentioned Automatic Updates.
Pros:
A complete and easy setup, including full backup.
You can download & self-host Cloudron for free, but you won't get automatic updates unless you sign up for a paid plan.
Multiple options for 1 click apps.
Cloudron Email Server supports multiple domains, aliases, filters, subaddresses, spam filtering, automated DNS setup & more.
Cons
Cloudron doesn't support GitHub push. This might not be a problem for some of you, but sadly it's a deal breaker for me. ?
Final Note
If you are only managing one or even maybe two servers, Serverpilot is still a pretty good option as you will get all the bells and whistles and only have to pay $7.50/month per server and additional $0.50 for per app.
If you need to manage more than 3 servers you should really need to take another look at other Serverpilot Alternatives Platforms as mentioned above.
As you can manage unlimited servers from just $15 with other server management platforms.
If you want to suggest your favorite platform, please don't hesitate to mention in the comments below.